Most of our readers are familiar with Dr. Josh Moody, Senior Pastor of College Church in Wheaton. Many know Josh as an articulate preacher and author. I've personally had the privilege of knowing Josh as a colleague and friend, and we continue to enjoy ministry partnership together in our little corner of DuPage County.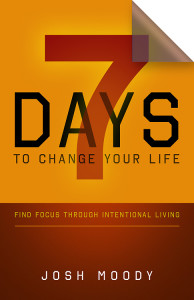 Josh's PhD is in Theology from Cambridge University. A bit of his background… he grew up south of London in England, and became a follower of Jesus in the Church of England. After serving as college pastor at Eden Baptist Church in Cambridge, he performed pioneer mission work in the former Soviet Union countries of Georgia and Azerbaijan. In time, Trinity Baptist Church in New Haven called him to be their pastor. From there, God led him to College Church in Wheaton.
There is a great deal of enthusiasm surrounding Josh's newest book, 7 Days to Change Your Life: Find Focus Through Intentional Living. Because of its strong emphasis on gospel renewal, I would like our readers to become familiar with it. I have therefore asked Josh to answer the following questions:
Why did you write the book?
I've written a short article on this that you can read here. Essentially, two streams converged. One was personal and related to a stage in my life where I looked for and found revitalization after my son was diagnosed with an illness. The other was pastoral and related to my search for a book that I could provide to people who were themselves seeking revitalization.
What do you hope to achieve through the book?
Jesus to be honored. God to be glorified. The gospel to make progress. People to fall more deeply in love with Jesus, and follow him with all their lives.
What sorts of takeaways are there, particularly from the chapter on true freedom for contemporary life?
Freedom is an interesting concept today. On the one hand, we define freedom in ways that make it hard for us to understand the Bible's teaching about freedom. We tend to think of freedom as the license to do whatever it is that we might choose to do. However, when we think about it for a moment, we realize that some choices are not freeing. The choice to continue in an addiction is not freeing. The choice to jump off a tall building without a parachute is not freeing. The choice for a fish to live outside of water—were it possible for a fish so to choose—would not be freeing for a fish. In other words, on the one hand our gut-level instinctive tendency to define freedom as license to do whatever we want (as long as it doesn't hurt others), when examined, appears to be suspect and insufficient.
On the other hand, true freedom is very attractive to us. The freedom, though, needs to be defined and discovered in biblical terms. One key element of following Jesus is realizing that following him—which will mean at times doing what he wants, not what we want—is actually freeing. That is, we need to connect freedom to a larger matter of purpose, being who we were always made to be by God.
What does it really mean to follow Jesus?
Great question! My first answer would be to read the Bible—this question is as large as the Scriptures and as infinite as God himself. My second answer would be to read 7 Days to Change Your Life.
How can someone's life change?
It is sometimes questioned whether, in any real or significant way, someone's life can change. Certainly, many people think that in reality it is not possible. A leopard does not change its spots, etc. At one level people go through all sorts of changes all the time: physical, emotional, relational and career changes. But at another level, the kind of restart, the kind of significant leaving behind of one set of (unhealthy) behaviors and grasping onto a new set of (healthier) behaviors in a long lasting and true way, appears to be far harder to achieve for most people. The Bible leads us to see that the one who sins is a slave to sin. The challenge of non-Christians, then, is that they are habitually bound in the kingdom of darkness to a life that, while at a superficial level frequently changes, at another level is in a downward spiral to death and hell. But the Christian, the true follower of Jesus, in the power of the Spirit, is able to change, through the new life that they receive when they become a Christian and by the constant exercise of that new life throughout their experience as a Christian in an ongoing way. "We all, with unveiled face, beholding the glory of the Lord, are being transformed into the same image from one degree of glory to another" (2 Corinthians 3:18).
Where can I find out more about the book?