I received a call from Angela at 11:00am. "Elton is in severe pain and in need of help," she announced. I immediately left the office. When I stepped through the door and saw Elton's face, the seriousness of his condition became obvious, even palpable. Thankfully, Nancy our physical therapist was present to watch our kids while Elton, Angela and I jumped into the minivan en route to RUSH Hospital in Chicago.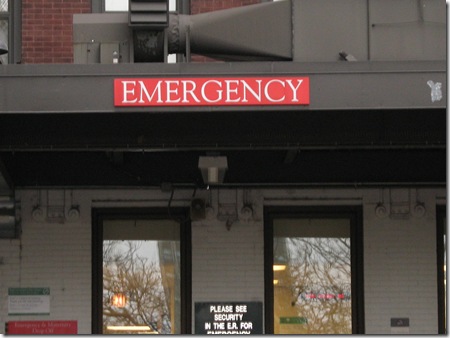 We'd eventually learn that Elton had a bleed in his right knee—the knee of his recent operation. The truth is that bleeding in one's joint is enough to make a grown man cry under normal circumstances; add to it tenderness from surgery and it becomes painful beyond description.
It's probably true that Angela's fingernails will  remain dug into our dashboard permanently. It's because of me. I'm empathetic to a fault. Listening to Elton's pain-induced groans and eventual cries in the backseat made me increasingly push down upon the gas. I figured that people drive 90mph on the autobahn every day and live to talk about it. In truth, the problem isn't so much the high speed as it is my attitude. When I'm feeling acute fear I become what my wife calls "Brooklyn Chris." Suffice it to say that this persona is not quite as gentle and patient as Pastor Chris. If by chance you were cut off today in Chicago by a speeding burgundy minivan, please accept my apology.
Elton is home resting now. The ER gave us some new, stronger meds that promise to cut his pain. We really hope so for Elton's sake; if not, we will be driving back to RUSH again tonight. Please pray.