It is our pleasure to open our arms and hearts to welcome Elton Sare, an 18-year-old Zimbabwean with severe hemophilia, who is visiting RUSH Hospital in March to have a critical surgery. Without treatment Elton would lose his leg or possibly his life. Even though he has never left his home in Harare, and is restricted to a wheelchair, Elton has courageously embarked upon this transatlantic trip by himself. During Elton's visit, Angela and I have the privilege of caring for him in our home. Daily photo and journal updates on Elton's experience will be posted here on Chris-tocentric.com so that you can join us on the journey. Following are more details on Elton's situation.
The Story of Elton Sare is one of terrific courage and inspiration. It is manifestly human, even as it transcends what any of us would call normal or routine. In a day when Americans feel a measure of despair, Elton's story shines as a ray of hope.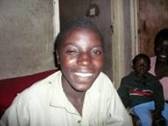 Elton Sare is an 18-year-old from Zimbabwe who has severe hemophilia.[1] His right knee is the size of a watermelon due to severe synovitis form repeated and untreated bleeding. Elton lives in poverty, in a brick home on the outskirts of Harare with his five siblings. His mother, Rosemary, owns and operates a small vegetable stand. She earns approximately $27 US a month. Elton's father passed away two years ago.
Elton's journey started when Laurie Kelley, president of LA Kelley Communications, and founder of Save One Life, visited Elton in his home in December 2007. Laurie, the mother of a 21 year old with hemophilia, is the foremost author in hemophilia in the US. Laurie was moved to action when she saw Elton's knee, and learned that he was losing feeling in his lower leg. Eventually, without treatment, he would develop gangrene, lose his leg and quite possibly his life. There is no medical treatment for hemophilia in Zimbabwe. An amputation could mean death.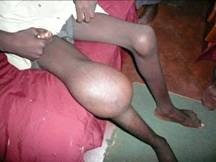 A plan was developed to get Elton medical aid, and for months Laurie tried to interest people to help. When Laurie met Juliet Hanlon, a UN Goodwill Ambassador, doors began to open as the UN took interest in Elton's case. After months with no leads, people came forward and began to offer help. Her Excellency Sophia Nyamudeza, UN Deputy Ambassador, and His Excellency Boniface Chidyausiku, UN Ambassador, Permanent Mission Zimbabwe, both have taken a deep personal interest in Elton's case. A fundraiser was conducted through the nonprofit organization Save One Life (www.saveonelife.net), which offers sponsorships for children with hemophilia. The $2,900 raised covered the costs of a passport, visa and ground transportation. Dr. Leonard Valentino, chief hematologist at RUSH Hospital in Chicago, offered a medical evaluation, blood tests and surgery on the enlarged knee. Chris and Angela Castaldo of College Church in Wheaton are personally hosting Elton during his stay.
---
[1] Hemophilia is a rare and inherited blood disorder that causes prolonged bleeding. Untreated, it can lead to pain, joint damage, brain damage and even death. Elton has severe factor IX deficiency