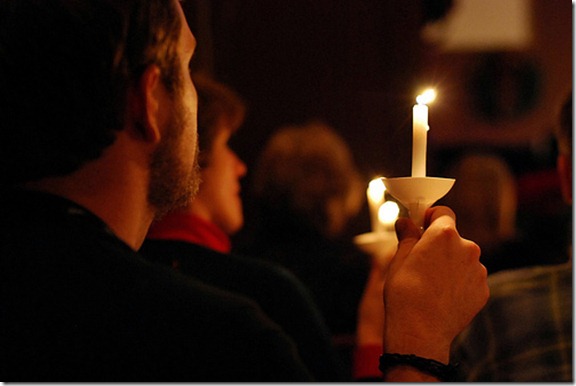 One of my greatest joys of the season is the College Church Christmas Eve Service. The sanctuary bathed in candlelight by its warm, inviting glow, as the voices of the congregation echo off the glass ceiling, I can still hear them singing:
O Come, O Come, Emmanuel,

And ransom captive Israel,

That mourns in lonely exile here

Until the Son of God appear…
There is something ironic about this hymn. Played in a minor key, its heavy tones impose a feeling of loneliness, even sorrow. The gloom and longing is evident in the words:
O Come, thou Dayspring, come and cheer

Our spirits by Thine advent here.

Disperse the gloomy clouds of night,

And death's dark shadows put to flight.
These lyrics come straight from the depths of the human heart where doubt and despair reside.
Maybe this season your heart reflects the mood of the hymn. You are saddened by a recent loss or trial and your soul is weighed down in a minor key. If so, hang on to the end of the song.
The words climb up to a triumphant chorus, "Rejoice, rejoice, Emmanuel shall come to thee, O Israel." Although we are fogged by gloomy clouds by night, we have good reason to rejoice. Christ has come to bring us eternal redemption. Exile has ended.