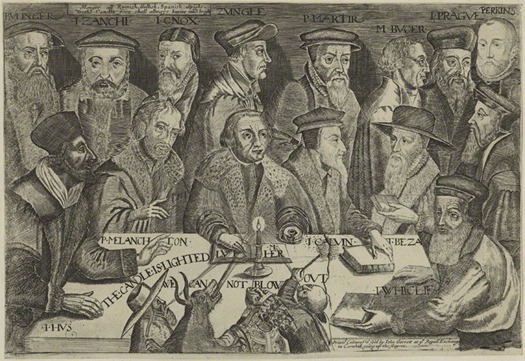 Friendly. Appreciative. Always wanting to stress commonalities and to lay aside differences. This has been the popular image of Pope Francis in his dealings with non-Catholics thus far. Many are impressed by his easy-going style that often seeks to affirm others. This may have been the rule but now there is an exception, and a very significant one. The recent re-publication of a lecture on the history of the Jesuits that Archbishop Bergoglio gave in Argentina in 1985 indicates the kind of harsh assessment that he gave of the Protestant Reformation in general and of John Calvin in particular. The lecture was re-published in Spain in 2013 and then translated into Italian in book form (Chi sono i gesuiti, Bologna: EMI, 2014). Since there is no indication that he has changed his mind, we have to consider the contents of the book an accurate reflection of what Francis still thinks of the Protestant Reformation.
Protestantism as the Root of all Evils
In examining the history of the Jesuits, Bergoglio gives special attention to their interactions with the Reformation and their role in the Latin-American missions. According to him the inevitable consequences of the Reformation are the annihilation of man in his anxiety (resulting in existential atheism), and a leap in the dark by a type of superman (as envisaged by Nietzsche). Both outcomes lead to "the death of God", and a kind of "paganism" that manifests itself as Nazism and Marxism. All this originating from the "Lutheran position"! Bergoglio argues that the Reformation is the root of all the tragedies of the modern West, from secularization to the death of God, from totalitarian regimes to ideological suicides.
Click here for the remainder of Dr. Leonardo De Chirico's article: