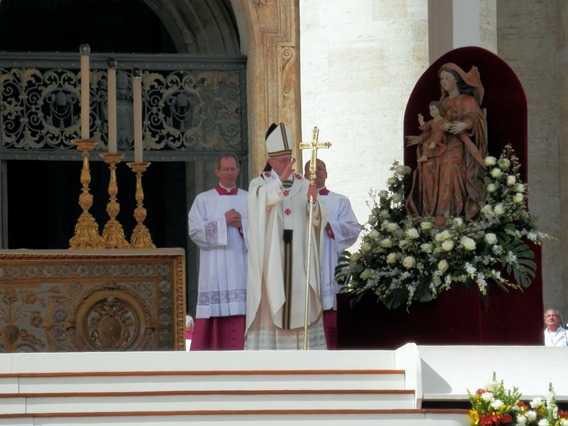 Francis' Marian devotion is one of the defining marks of his spirituality. From his very first acts as Pope to his daily speeches and practices, traditional Marian theology is basic to his Catholic worldview. To evangelical ears his language may at times seem Christ-centered and mission-oriented, but these apparent gospel emphases are always organically related to a strong Marianism that envelops the Pope's religious narrative and experience. The latest example of his profound Marianism occurred in a meeting with the seminarians in Rome on May 13th. In answering their questions on various topics, the Pope made some interesting comments on the Marian framework that undergirds his theology of the Christian life.
Under the Mantle of the Holy Mother of God
Commenting on the need for vigilance in times of personal turmoil, Francis evokes the counsel of the Russian Fathers to run "under the mantle of the Holy Mother of God". This Marian protection – the Pope recalls – is also part of the liturgy whereby the faithful declare to find refuge under the "presidium" (haven) of Mary: "sub tuum presidium confugimus, Sancta Dei Genitrix". So, for a priest not to pray to Mary in times of difficulty is for him to be like an "orphan". When in trouble the first thing a child does is look for his mother, so too should it happen in the spiritual realm. The mediatorial work of Jesus Christ and his total understanding of our needs (the whole point of Hebrews 1-2 and 4:14-16) is here totally overlooked and is instead subsumed under the protection of Mary who is the caring mother of those seeking help. Whereas the Psalmist can cry "For God alone, o my soul, wait in silence, for my hope is from Him" (Psalm 62:8), Francis' advice is to seek the "mantle" of Mary.
Click here for the remainder of Dr. Leonardo De Chirico's article: