It is day one of the Holy Ground book tour. Special thanks to Zondervan for their sponsorship.
Harvest Christian Fellowship in Riverside is a dynamic church where Greg Laurie serves as pastor. Many of you will know of Greg from his citywide evangelistic crusades. Something you may not know is that Greg lost his eldest son Christopher in 2008. On the Riverside website Greg offers a very touching statement about it, explaining how Christ has provided comfort to him and his family.
Following is a portrait of today from some photos that I snapped.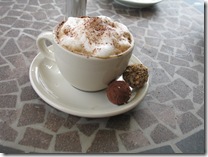 The French coffee shop to which Jimmy brought us this morning offered free homemade truffles with each cappuccino. This shot was taken on the outdoor patio where we sat and discussed theology for a couple of hours. A great way to start the day!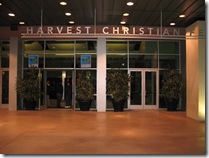 The campus of Harvest Christian Fellowship in Riverside is among the most beautiful that I have ever seen. More impressive still is the quality of their ministry. Pastor Carmen is one of those Christ-like guys who inspires you to love Jesus simply by his presence. It was also a joy to serve with Lenny Esposito, my fellow paisano.
After a wonderful Tex Mex dinner with some of the Harvest staff (by the way, order something other than beans and guacamole before you speak…note to self for the future) we arrived at the church for our venue. After an hour presentation, Lenny, who leads a fine apologetics ministry called Come Reason, joined me to answer questions. Several folks stuck around to express their appreciation. Frankly, this is the most enjoyable part: making new friends and occasionally hearing how Holy Ground has served them. Thank you Harvest for a wonderful event. Praise God for a terrific first day!