On January 3, 1521, Pope Leo X issued the papal bull Decet Romanum pontificem ("It pleases the Roman Pontiff") to excommunicate Martin Luther. This statement prohibited Luther from receiving the Eucharist, which (from Rome's point of view) deprived Luther of Christ. Three months later, Martin was called to give an answer for his gospel hope to the Holy Roman Emperor, Charles V, where Luther famously stood firm in his evangelical faith. The emperor pronounced Luther an outlaw and a heretic for his refusal to recant.
Against this historical background, a reporter recently asked Pope Francis whether he would perhaps "annul or withdraw the excommunication of Martin Luther" by the Catholic Church at the upcoming 500 year commemoration of the Reformation, which the pope is scheduled to celebrate among Lutherans in Lund, Sweden. Here is what pope Francis said in response:
I think that the intentions of Martin Luther were not mistaken. He was a reformer. Perhaps some methods were not correct. But in that time, if we read the story of the Pastor, a German Lutheran who then converted when he saw reality – he became Catholic – in that time, the Church was not exactly a model to imitate. There was corruption in the Church, there was worldliness, attachment to money, to power…and this he protested. Then he was intelligent and took some steps forward justifying, and because he did this. And today Lutherans and Catholics, Protestants, all of us agree on the doctrine of justification. On this point, which is very important, he did not err. He made a medicine for the Church…
It pleased Pope Leo X to excommunicate Martin Luther as a heretic, but it evidently pleases Pope Francis to affirm Luther as an intelligent and truly Catholic pastor of the church who confronted ecclesial corruption. How did Luther do this? It was by offering a valuable gift, indeed, medicine for the church—the doctrine of justification by faith alone. We recognize, of course, that Luther was not the only Catholic to offer such medicine. Numerous prelates of the sixteenth century church, including Cardinals Gasparo Contarini, Reginald Pole, and Girolamo Seripando, shared Luther's conviction that justification is grounded in the imputation of Christ's righteousness.[1] But that Francis should use these words of Luther, the forerunner of the Protestant Reformation, is rather incredible.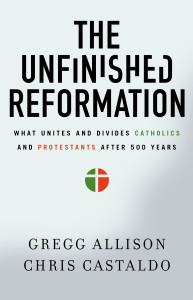 Of course, it's not enough for Francis to be pleased with Luther. For the pope's statement to have any real significance the Roman Catholic Church must officially speak to the issue. Will this happen in Lund, Sweden? You probably shouldn't hold your breath. But at the very least we can hope that the occasion will stimulate honest discussion around the subject. In view of this opportunity, Gregg Allison and I have co-written a book titled The Unfinished Reformation (Zondervan), which is scheduled to hit bookshelves in September of 2016. We hope it will help you and your church to navigate religious conversations among Catholic friends and loved ones.
[1] Shortly after the Colloquy of Regensburg, which upheld the doctrine of imputation, Pole wrote to Contarini in which he "likened the formula to a partly concealed pearl, always possessed by the Church, but now accessible to everyone." Wilhelm Schenk, Reginald Pole Cardinal of England. (London: Longmans, Green and Co., 1950), 102.