They say you should never talk about religion and politics. Now I don't know who "they" actually are, but anyone who is committed to Christ—and to sharing his love with others—knows that sometimes we simply must talk about what the world calls religion.
But should Christians also talk about politics? What, after all, does Jerusalem have to do with Athens?
Unless you have just awakened from a long summer's nap, like Rip Van Winkle, you probably understand that we are in the midst of the most consequential—not to mention nastiest—presidential primary election in memory. While our nation is polarized in partisan gridlock, the Church is called to embody and proclaim the good news of the kingdom. How shall we do this? Join us this Sunday June 12 at 3:00 pm at New Covenant Church in Naperville to consider the question.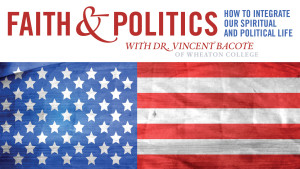 We are delighted to have Dr. Vincent Bacote of Wheaton College delivering a lecture, followed by questions. In this cultural moment of encircling despair and cynicism, Dr. Bacote will answer such questions as "does attention to politics lead us astray from our Christian mission?; How do our beliefs help us to understand our place and purpose in society?; How might we love God and others more in our polarized climate?"
For more information, please contact the New Covenant Church office at 
630- 357-4092
 or info@newcovenantnaperville.
org. 
Admission is free and open to the public.
​