I remember my First Communion in the Roman Catholic Church—white suit, white tie, white shoes. There I was, in the groovy 1970's, walking through the parish like a little John Travolta. I also remember a question that crossed my mind for the first time: Am I a Christian or am I Roman Catholic?
The question created some confusion. How do terms such as "Christian," "Roman," and "Catholic' relate to one another? Perhaps you've wondered.
This 500-year anniversary of the Protestant Reformation is concerned with the above question, or "catholicity" (i.e., the nature of the bond that unities the universal Church). Thankfully, there is a terrific new book on the subject, Roman But Not Catholic: What Remains at Stake 500 Years After the Reformation. Among its strengths, this book considers the Roman Church's claims to catholicity. Moreover, as the subtitle indicates, it's also concerned with "what remains at stake 500 years after the Reformation."
I want to express gratitude to the authors, Ken Collins and Jerry Walls, for taking time to answer the following questions (you'll find more information about the authors down below).
1.) Why was the book written?
Ken: Jerry and I put together this book Roman But Not Catholic in order to help Roman Catholics become better Catholics and to encourage our Protestant brothers and sisters to take up, in a more engaging way, their rich catholic heritage. This book also demonstrates quite clearly, and even celebrates, the ongoing importance of the Reformation especially during this pivotal year.
Jerry: I would just add that I thought there was a need for more serious Protestant push back than we have seen lately. We have heard from a number of evangelicals who have "converted" to Rome, so we thought it would be good to hear from some persons who have thought about these issues, but find Rome's claims far from persuasive. We have heard from a number who have read Newman's famous book on doctrinal development and found it convincing, so we thought it would be helpful to hear from persons who have read Newman but found his arguments deeply confused and his conclusions grossly exaggerated.
2.) Is this an ecumenical book, then?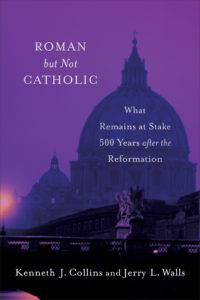 Ken: Yes but it is distinguished from other books in the genre of ecumenism in that it does not gloss over important and even difficult differences between Roman Catholics and Protestants. It takes up then what can be called a "deep ecumenism." This last phrase basically means that some of the troubling issues, which separate these important traditions, were not avoided in our book. And, of course, these issues must always be addressed in a spirit of mutual respect and charity.
Jerry: Indeed, we believe that to the true to the vision of the Protestant Reformers is to be catholic and to strongly affirm the historic catholic faith of the classic creeds. But our book is pointedly critical of the exclusive claims of Rome even as it aims for a more expansive and generous view of substantial Christian unity.
3). You responded to the first question with the language of celebrating the Reformation. Is that choice of words appropriate today in view of Vatican II?
Ken: Yes, this terminology is still valuable even today because so many good things came out of the Reformation that have not been addressed by Vatican II. In other words, the particular word "celebrate" is warranted simply because it is always appropriate to draw attention to the good and because Protestants have the right to celebrate their own heritage, one that has made a lasting contribution to the universal church.
Jerry: Indeed, we should certainly avoid triumphalism, but the important gains of the Reformation should be forthrightly celebrated. Some Protestants seem to think we should only lament the Reformation and speak of it only in terms regret. We may certainly regret that the Reformation was necessary, while honoring and celebrating the remarkable men who had the courage of their biblically driven convictions.
4) Can you cite an example of how the Protestant Reformation has had a lasting impact upon the church?
Ken: Though more work needs to be done in terms of the crucial doctrines of justification, faith and grace, the Joint Declaration on the Doctrine of Justification affirmed by Lutherans and Roman Catholics in 1999, and later on by Methodists as well, would not have happened but for what took place in the sixteenth century in Germany, Switzerland and elsewhere.
5) Is it not also correct to state that the Joint Declaration would not have happened if it were not for Vatican II?
Ken: Well, Yes and No. For one thing, Vatican II never addressed the doctrine of justification in any focused way but you are correct in the sense that this council did indeed create the ecclesiastical and ecumenical environment in which the Joint Declaration could happen. But it must be borne in mind that the question entertained by all in 1999 was a Protestant one, and it went back to the Reformation of the sixteenth century.
6) What then are some of the difficult ecumenical issues that you address in the book?
Ken: Though Pope Francis has claimed that it is not Christian to build walls, there is no greater wall between Christians than the separation that occurs every Sunday morning at the communion table where those Protestants who celebrate one Lord, one Faith and one Baptism are not welcomed by Roman Catholic priests. We must quickly add, however, that some Protestants from various traditions return this liturgical, sacramental favor in kind, so to speak. This situation is most regrettable in whatever way you look at it. Though Roman Catholics and Protestants share so much in common, what C.S. Lewis referred to in his own age as "mere Christianity," the pain of separation is real and it is not only offensive to those in the church but to those outside as well.
7) Are you optimistic or pessimistic about the future relations between Protestants and Roman Catholics?
Read the book and see!
Kenneth J. Collins (PhD Drew University) is professor of historical theology and Wesley studies at Asbury Theological Seminary. Jerry L. Walls (PhD University of Notre Dame) is professor of philosophy and scholar in residence at Houston Baptist University.