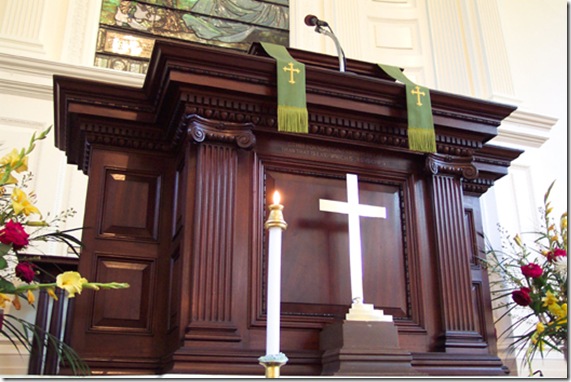 After last week's Gospel Coalition conference, I find myself thinking a great deal about the task of preaching. The following quote from E.M. Bounds provides a helpful insight into the nature of the task.
Edward McKeendree Bounds (1835 – 1913) was an American Methodist minister who is chiefly remembered today for his inspirational books on prayer. He was born in Missouri in 1835 and initially studied law, which he practiced for three years. At the age of 24, however, inspired by his diligent study of the Scriptures and also the example of John Wesley, he entered the ministry, becoming pastor of a small Methodist congregation in Monticello, Missouri. After the Civil War ended, Bounds served as pastor of churches in Tennessee, Alabama, and St. Louis, Missouri and also became Associate Editor of the Christian Advocate, the official weekly paper of the Methodist Episcopal Church. For the last 17 years of his life he had an itinerant ministry from his home in Washington, Georgia, but spent most of his time writing, studying the Bible, and praying—it is said that he rose every day at 4 A.M. to spend three hours in prayer before doing anything else. This extract from his book Power through Prayer reminds pastors that truly effective preaching flows not so much from great learning as from holy lives. Such lives can shape a generation for God.
The gospel of Christ does not move by popular waves. It has no self-propagating power. It moves as the men who have charge of it move. The preacher must impersonate the gospel. Its divine, most distinctive features must be embodied in him. The constraining power of love must be in the preacher as a projecting, eccentric, an all-commanding, self-oblivious force. The energy of self-denial must be his being, his heart and blood and bones. He must go forth as a man among men, clothed with humility, abiding in meekness, wise as a serpent, harmless as a dove; the bonds of a servant with the spirit of a king, a king in high, royal, independent bearing, with the simplicity and sweetness of a child. The preacher must throw himself, with all the abandon of a perfect, self-emptying faith and a self-consuming zeal, into his work for the salvation of men. Hearty, heroic, compassionate, fearless martyrs must the men be who take hold of and shape a generation for God. If they be timid timeservers, place seekers, if they be men pleasers or men fearers, if their faith has a weak hold on God or his Word, if their denial be broken by any phase of self or the world, they cannot take hold of the Church nor the world for God.

The preacher's sharpest and strongest preaching should be to himself. His most difficult, delicate, laborious, and thorough work must be with himself. The training of the twelve was the great, difficult, and enduring work of Christ. Preachers are not sermon makers, but men makers and saint makers, and he only is well-trained for this business who has made himself a man and a saint. It is not great talents or great learning or great preachers that God needs, but men great in holiness, great in faith, great in love, great in fidelity, great for God—men always preaching by holy sermons in the pulpit, by holy lives out of it. These can mould a generation for God.1


Footnotes:

1 E. M. Bounds, Power through Prayer (London: Marshall Brothers, 1907), 12-14.