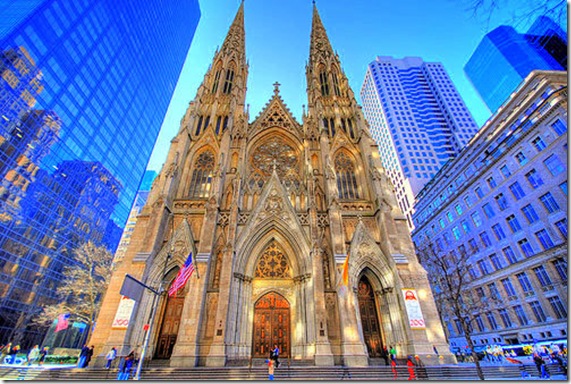 The Gospel Coalition posted this insightful post by Peter J. Leithart titled Too Catholic to Be Catholic. Here is the crux of it.
* * * * *
One of the major themes of my academic and pastoral life, and one of the passions of my heart, has been to participate in the healing of the divided church.  I have written and taught a great deal on ecclesiology; I participate in various joint Protestant-Catholic-Orthodox ventures (Touchstone, First Things, Center for Catholic-Evangelical Dialog).  I consider many Catholics and Orthodox friends as co-belligerents in various causes, and I think of Catholicism and Orthodoxy as allies on a wide range of issues, not only in the culture wars but in theology and church life.
This isn't just a theological niche for me.  It's a product of a deep conviction about the nature of the church.  I still remember the pain I felt when I first understood (with James Dunn's help) what Paul was on about in Galatians 2, when he attacked Peter for withdrawing from table fellowship.  The division of the church, especially since the Reformation, has largely been a story of horror and tragedy, with the occasional act of faithful separation thrown in.  I regard the division of the church as one of the great evils of the modern world, which has seen more than its share of evils (many of which are, I believe, quite closely related to the division of the church).  What more horrific sight can we imagine than to see Christ again crucified?  Christ is not divided.  I think our main response to this half-millennium of Western division, and millennium-plus of East-West division should be deep mourning and repentance.
My Protestantism, my reformed catholicity, isn't at all in conflict with that passion for church unity.  There is no tension at all.  On the contrary, it'sbecause I am so passionate to see the church reunited that I, not grudgingly but cheerfully, stay where I am.  My summary reason for staying put is simple: I'm too catholic to become Catholic or Orthodox.
I agree with the standard Protestant objections to Catholicism and Orthodoxy: Certain Catholic teachings and practices obscure the free grace of God in Jesus Christ; prayers through Mary and the saints are not encouraged or permitted by Scripture, and they distract from the one Mediator, Jesus; I do not accept the Papal claims of Vatican I; I believe iconodules violate the second commandment by engaging in liturgical idolatry; venerating the Host is also liturgical idolatry; in both Catholicism and Orthodoxy, tradition muzzles the word of God.  I'm encouraged by many of the developments in Catholicism before and since Vatican II, but Vatican II created issues of its own (cf. the treatment of Islam in Lumen Gentium).
I agree with those objections, but those are not the primary driving reasons that keep me Protestant.  I have strong objections to some brands of Protestantism, after all.  My Protestantism – better, reformed catholicity – is not fundamentally anti-.  It's pro-, pro-church, pro-ecumenism, pro-unity, pro-One Body of the One Lord.  It's not that I'm too anti-Catholic to be Catholic.  I'm too catholic to be Catholic.
Here's the question I would ask to any Protestant considering a move: What are you saying about your past Christian experience by moving to Rome or Constantinople?  Are you willing to start going to a Eucharistic table where your Protestant friends are no longer welcome?  How is that different from Peter's withdrawal from table fellowship with Gentiles?  Are you willing to say that every faithful saint you have known is living a sub-Christian existence because they are not in churches that claim apostolic succession, no matter how fruitful their lives have been in faith, hope, and love?  For myself, I would have to agree that my ordination is invalid, and that I have never presided over an actual Eucharist.  To become Catholic, I would have to begin regarding my Protestant brothers as ambiguously situated "separated brothers," rather than full brothers in the divine Brother, Jesus.  To become Orthodox, I would likely have to go through the whole process of initiation again, as if I were never baptized.  And what is that saying about all my Protestant brothers who have been "inadequately" baptized?  Why should I distance myself from other Christians like that?  I'm too catholic to do that.
Catholicism and Orthodoxy are impressive for their heritage, the seriousness of much of their theology, the seriousness with which they take Christian cultural engagement.  Both, especially the Catholic church, are impressive for their sheer size.  But when I attend Mass and am denied access to the table of my Lord Jesus together with my Catholic brothers, I can't help wondering what really is the difference between Catholics and the Wisconsin Synod Lutherans or the Continental Reformed who practice closed communion.  My Catholic friends take offense at this, but I can't escape it: Size and history apart, how is Catholicism different from a gigantic sect?  Doesn't Orthodoxy come under the same Pauline condemnation as the fundamentalist Baptist churches who close their table to everyone outside?  To become Catholic I would had to contract my ecclesial world.  I would have to become less catholic – less catholic than Jesus is.  Which is why I will continue to say: I'm too catholic to become Catholic.
One final reason has to do with time.  I cut my theological teeth, and still cut them, on James Jordan's biblical theology.  At the end of Through New Eyes, Jordan argues just as the temple was unimaginable to Israelites living through the collapse of the tabernacle system, so the future of the church is unimaginable to us.   We can't see the future; we can't know how God is going to put back the fragmented pieces of His church.  We can trust and hope that He is and will, but all we have access to are the configurations of the past and present.  It's tempting to imagine that the future of the church will be an extension of some present tradition – Protestant, Catholic, Orthodox, Anabaptist, whatever.  But the future never is a simple extension of the past and present (how can it be, with the massive surge in Christianity in the global South?).  So I remain contentedly and firmly in my reformed catholicity, but I remain also eager and impatient for the church to come.  Of that church we know nothing except that it will be like nothing we know.  We worship a living God, which means (Jenson tells us) a God of constant surprises.