"Meiwachin." This is what Elton now calls Angela. It means "white mother." Like a true mother, Angela ensures that Elton drinks enough fluid before infusions and consumes enough vegetables to promote recuperation. I have the easy part. I simply offer encouragement, make lattes, provide R&B music, drive to the doctor's office, and push the wheelchair. In exchange for this Elton laughs at my silly jokes. It's a great relationship.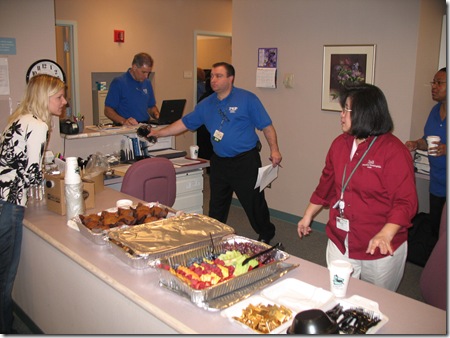 The above photo is a snapshot of a typical comprehensive clinic with Dr. Valentino and his team. Not only does the good doctor provide first-rate medical care, as an Italian, he also provides fantastic food. What you see above is just breakfast. For lunch (because these visits take several hours) they put out a spread to rival Mama Leone. Below is a photo of me and the other pizano in the Valentino team, John our nurse (on the left). John breaks the traditional nurse mold. There's no Florence Nightingale pinafore apron, cap, a rectal  thermometer on this macho man. He's the best!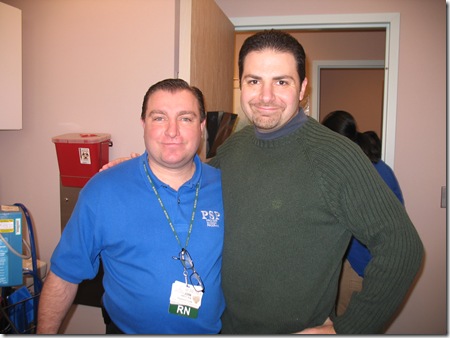 Laura the physical therapist measured Elton's range of motion. The experience was less painful compared to his last PT exam.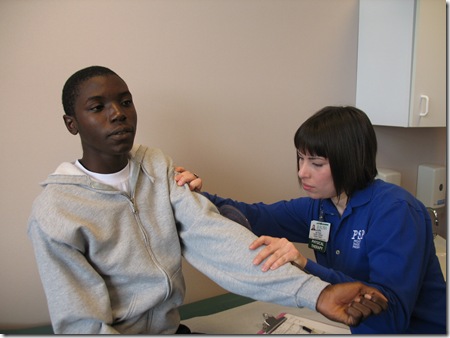 In the middle Elton's five hours on the CPM machine (remember, "continuous pain in motion") Simeon, my two year old, took a seat in the room and began offering encouragement.
When I arrived home our friend Nancy was finishing up Elton's daily physical therapy session. He was on his feet walking down the hall with some assistance from his crutches. Nancy's style is perfect. Her gracious affirmation helps Elton to forget about his pain, at least for a moment. It's probably just a matter of time before Elton uses the name "Meiwachin" for Nancy as well.