Today's post was written by Angela: Today was not a Cinderella story like last night. The bell struck midnight and everything was as it had been before. The CPM machine was still there waiting for its 5 hour a day use and that lady who wakes him up for breakfast at 9:30am and a factor infusion was at his door. Oh why can't it last forever!
Elton's progress is slow but sure. We are trying to wake up his muscles! As the swelling continues to decrease and muscles strengthen, Elton has the privilege of trying new and "fun" things in PT. Today we mapped his walk pattern. This was done by chalking up the bottom of his shoes with different colored chalk and walking on a long piece of white paper. He got to see firsthand the importance of leg extension for walking. The other knew things he got to try was kinesio tape and a new orange elastic theraband. This was added onto all of Elton's other daily exercises. He is beginning to wonder what else he can do with his day besides therapy.
The fun and "healthy" foods that Elton was introduced to today was Nutella and pomegranate/blueberry juice. He loved it!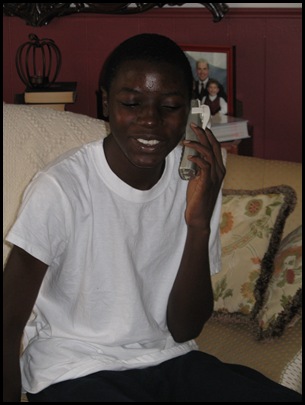 Elton here is speaking with his brother Wellington.