In April of 1980 Bob Marley performed his classic song "Zimbabwe" at Zimbabwe's National Independence Celebration in Harare. I acquired this historical tidbit last week when Angela and I were reading about Elton's homeland. Since then we have been playing Marley's music in our home. It's one little way of helping Elton relate to this foreign culture that we call America. To varying degrees, our family now better appreciates reggae. Below is a photo of my two-year-old son Simeon and me showing Elton how we dance to Marley's song "Exodus." Don't worry Grandma, I don't think it's possible for Simeon to grow Rastafarian dreadlocks.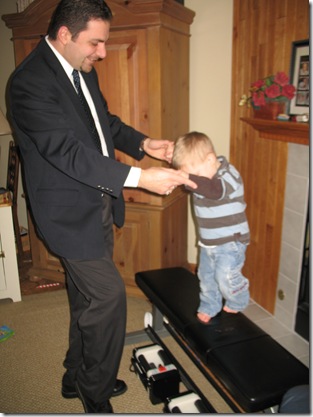 Today was a day of medical training. My sweet mother-in-law put her nurse expertise to work, instructing Elton on how to infuse factor for himself (the medication used to make blood clot). After setting Elton up with the proper supplies, she extended her arm and coached him through the process of hitting her vein (as pictured below). You would have thought that he was a professional phlebotomist.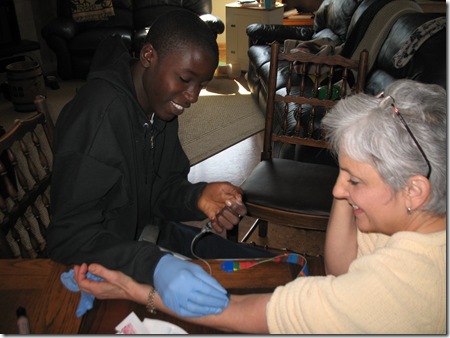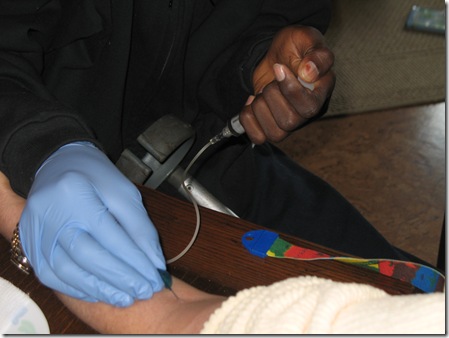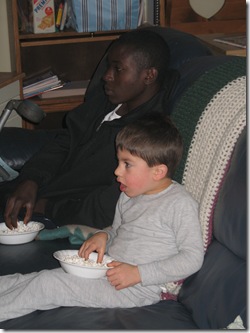 Tonight's dinner was Indian cuisine: tandoori chicken in a citrus marinade with lentils. Yum, was it delicious. We all smell like we're off the plane from Bombay, but it's worth it.
Afterward, we ate popcorn and watched The Lion, the Witch, and the Wardrobe from C.S. Lewis' Chronicles of Narnia. This photo was taken just as Aslan came back from the dead.
There is  an interesting irony. Our day started and also concluded with Exodus. In Marley's words:
"So we gonna walk – all right! – through de roads of creation:
We the generation Trod through great tribulation. Exodus, all right! Movement of Jah people! …Exodus, from across the Red Sea!
With the above lyrics ringing in our ears we concluded the day with the resurrection of the great lion, the death of death and  bursting forth of life. Or as Marley concludes:
"…We know where we're from. We're leaving Babylon,
We're going to our Father land."