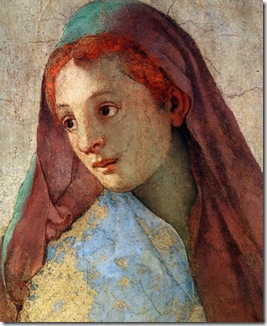 This time last year I was standing in Florence with my fratello, Marco Brucato. Mark shared a fascinating story about a particular set of Reformation paintings by Jacopo Carrucci which had been displayed centuries earlier in the church across the cobblestone street. As I licked my limoncello gelato, I gazed across the road amazed by this little known historical event. Following is a summary of the story from Marco's website.
The Italian Reformation (often called Catholic Reformation) is a period little known in formal 15th and 16th century studies; either those specifically focused on the religious reformation, or even in more general disciplines such as late medieval history, philosophic humanism, the social-cultural renaissance, or classical renewal. While the last decade has seen a groundswell of interest in publications and research on this strata of Italian life and history, virtually all the sources indicate that much more work is needed (specifically in primary source research, translation, and synthesis).1
One of the most remarkable studies that has recently been brought to the fore is a art-history work (and theological!) published in Florence: "Gli Affresci Proibiti Del Pontormo" (The Forbidden Frescos of Portormo). For many reasons this work is exemplary, though it's primary contribution may actually transcend its own subject matter by providing a potent glimpse into the diffusion of evangelical thought and doctrine in every stream of Italian life and the dominant ecclesial response.
Without a doubt the main literary work that emerged from the Italian Reformation is a small but thorough tractate on justification called "Il Beneficio di Cristo" (The Benefit of Christ which is the abbreviated title from the original The Benefit of Christ's Death for Believers).2
This tractate found its way into the hands of one of Italy's finest renascence painters, a contemporary of Michelangelo, Jacopo Carrucci known as the Pontormo. Pontormo fame was great then and now, and drew the attention of both the Medici family and the Papacy. At the end of his life, Pontormo was commissioned to paint the nave of the Basilica of San Lorenzzo in Florence. This great master dedicated the final 11 years of his life (consider that it took Michelangelo 4 years to paint the entire Sistine Chapel) to this project, all-the-while reading and internalizing the theology of "Il Beneficio di Cristo."
When the work was completed and presented to the public, shock waves where felt as far as Rome. The great Pontormo had both personally embraced and publicly depicted (in a central Catholic Church) the reformation doctrine of justification by faith alone! The ecclesial and political powers of the day (very intimately connected) already knew that these theological undercurrents could not be ignored and that "this has not been done in a corner" (to steal a phrase from the Apostle Paul, Acts 26:26). This was certainly true now that the Pontormo placed it before all eyes in Florence to see and upon which to reflect.
After many years, the ecclesial and political indignation had risen to intolerable levels, and inch by inch Pontormo's masterpiece was destroyed. Artist and Theologians alike could weep over such a crime. However, efforts launched by a local Evangelical Church in Florence uncovered the original preparatory sketches of Pontormo work, and published them in conjunction with segments and explanations of "Il Beneficio di Cristo." Thus, artistic pearls of Pontormo were re-threaded by an evangelical tractate and again offered for consideration in an Italian context. While the fullness of Pontormo's original artistic work may have been lost, the message which gave life to its artist still rings clear. People are made right before God and by God through faith in His perfect and powerful Son, Jesus Christ, and Him alone.
"Gli Affresci Proibiti del Pontormo" combines good research and scholarship, as well as preserving the theological commitment of its subject matter. As such, this work sets a good example for future publications centered on primary source material from this little know area of Italian life. May more be brought forth for the good of the gospel in this land.
Footnotes:
1.See a discussion on this reality in the final two chapters of Dermont Fenlons Heresy and Obedience in Tridentine Italy: Cardinal Pole and the Counter Reformation. Cambridge, 1972.
2.See my article "Doctrine to Die For" under Current Reflections of www.insideitaly.org for more on this (March 27, 2009).
3.The first picture (female face) is the "Annunciation of the Virgin Mary," Church of Santa Felicita, Cappella Capponi, Florence