"We plan and God laughs." Sometimes I think that this is so because God's plan for his children is indeed greater than what we would ever endeavor. It's as if the Lord says, "Is that all the faith you have? I'm going to show you…."
I suppose today is one of those days. My plans pretty much fell apart when I learned that Enterprise Rent-A-Car didn't have my GPS (thus prohibiting me from visiting some churches) and Angela was bumped from her connection flight, leaving her stranded in Denver.
That's when God probably laughed.
Thanks to my friend and College Church Elder, Mark Taylor, I was able to visit an exceedingly sharp leader in the Calvary Church ministry named Sarah. After having an enjoyable conversation with Sarah about how Holy Ground serves the needs of former Catholics, she arranged for me to meet Chuck Smith, Founding Pastor of Calvary Chapel in Costa Mesa. Although Pastor Smith is now 82, his Gospel energy is unabated. As a new Christian, Chuck's radio sermons were a significant part of what established me in the faith. To say that meeting him was a treat is an understatement.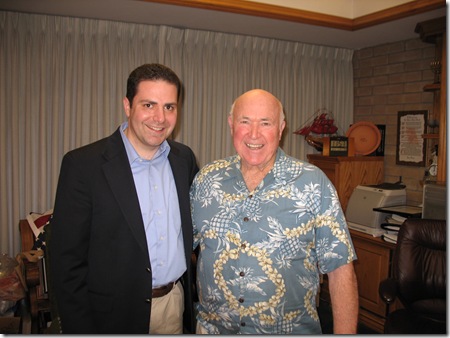 That's certainly enough to make one's day, but there's more. As providence would have it, an Italian coffee shop was located just down the block from Sarah's office. Thanks to their free wifi, I jumped online and found that Book & Culture Online has posted a wonderful review of Holy Ground today, written by my friend Stan Guthrie. You can read it here, if you like. 
And in three more hours the ultimate delight in this world is due to arrive. Let's just hope that her flight is on time.