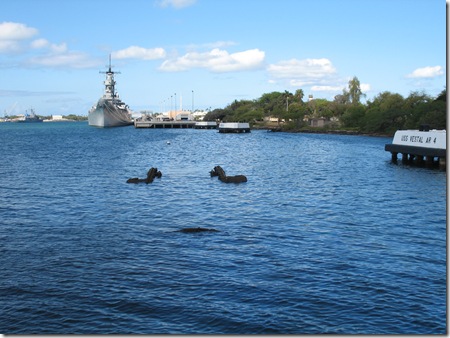 In the distance is the USS Missouri, otherwise known as "Mighty Mo," the battleship on which Japan signed the declaration of surrender in September of 1945, thus concluding World War II. Among its many claims to notoriety, this particular distinction has made the Missouri a symbol of power, peace, and victory. The above picture, however, is especially significant because it was taken over the sunken remains of the USS Arizona (in the foreground) which the Japanese had previously bombed at Pearl Harbor. 
Maybe I'm too much of a redemptive historical maximalist, but as I think about the Missouri, pictured beyond the Arizona's ruins, I naturally consider how the church views the resurrection of Jesus.  The Lord's triumph over sin—with its power, peace, and victory—from the standpoint of the cross, that is, seen in the context of Jesus' suffering and death, reveals something of God's indescribable glory, and, simultaneously, the depth of human need. In this vein, Stott writes:
Every time we look at the cross Christ seems to say to us, "I am here because of you. It is your sin I am bearing, your curse I am suffering, your debt I am paying, your death I am dying." Nothing in history or in the universe cuts us down to size like the cross. All of us have inflated views of ourselves, especially in self-righteousness, until we have visited a place called Calvary. It is here, at the foot of the cross that we shrink to our true size.[1]
The next time you reflect upon the resurrection, be sure to do so in view of the cross, letting the darkness of Golgotha highlight all the more sharply the beauty and splendor of Jesus' victory.
Tomorrow, I preach for the second time at Hawaii Kai Church. My text is Eph 4:1-6. Please pray that as I assemble the expositional wood, God would provide spiritual fire.
---
Footnotes:
[1] John Stott, The Message of Galatians (Downers Grove: InterVarsity Press, 1968), 179.