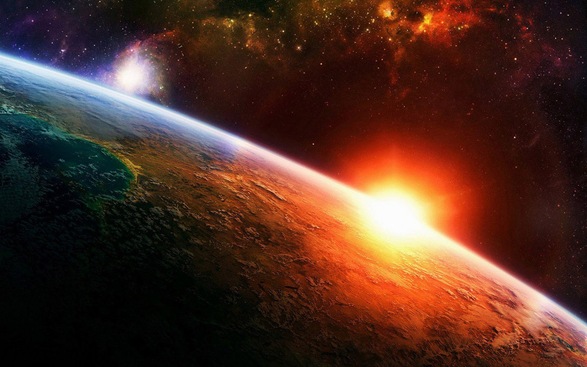 Albert M. Wolters (1942-) is the current professor of religion and theology and classical studies at Redeemer University College in Ancaster, Ontario. While teaching philosophy at the Institute of Christian Studies in Toronto in 1985, he compiled a collection of his lectures and published them under the title Creation Regained. In this book, Wolters proclaims that Christians are to understand the world through the lens of Scripture—more specifically through the biblical paradigm of Creation, Fall, and Redemption. The following quote not only defines "worldview" but also emphasizes the need for Scripture to inform all areas of life. Wolters asserts that there is no non-religious aspect of human life. Scripture creates a proper worldview.
There is no passage in Scripture that cannot teach us something about God and his relationship to us. We must approach the Scriptures as students, particularly when we begin to think critically about our own worldview. "Everything that was written in the past was written to teach us," says Paul of the Old Testament Scriptures (Rom. 15:4), and the same applies to the New Testament. That is why the concept of "sound doctrine" is so central to the apostolic witness—not doctrine in the sense of academic theology, but as practical instruction in the life-and-death realities of our walk in the covenant with God. It is by means of that kind of teaching that the steadfastness and encouragement the Scriptures bring will enable us, as Paul goes on to point out in the same passage, not to despair but to hang on to our hope in Christ. That is also involved in what Paul calls the "renewal of our minds" (Rom. 12:2). We need that renewal if we are to discern what God's will is in the full range of our lives—"his good, pleasing and perfect will." Testing our worldview against Scripture and revising it accordingly is part of the renewal of the mind. . . .

To be sure, we must be taught by Scripture on such matters as baptism, prayer, election, and the church, but Scripture speaks centrally to everything in our life and world, including technology and economics and science. The scope of biblical teaching includes such ordinary "secular" matters as labor, social groups, and education. Unless such matters are approached in terms of a worldview based squarely on such central scriptural categories as creation, sin, and redemption, our assessment of these supposedly nonreligious dimensions of our lives will likely be dominated instead by one of the competing worldviews of the secularized West. Consequently, it is essential to relate the basic concepts of "biblical theology" to our worldview—or rather to understand these basic concepts as constituting a worldview. In a certain sense the plea . . . for a biblical worldview is simply an appeal to the believer to take the Bible and its teaching seriously for the totality of our civilization right now and not to relegate it to some optional area called "religion."1

Footnotes:

1Albert M. Wolters, Creation Regained (Grand Rapids, MI: Eerdmans, 1985), 6-8.